Introducing Proofpoint Essentials
Last updated
| | |
| --- | --- |
| Situation | You have just signed up for Proofpoint Essentials and need a general guide or overview for the platform. |
| Solution | This article contains many links to relevant components of the Proofpoint Essentials product. Use this article as a reference for getting familiar to the platform. |
Overview
Your company has implemented Proofpoint Essentials to provide you with comprehensive protection against unwanted and malicious email. Proofpoint Essentials will prevent virus-affected and potential spam emails from reaching your inbox. Typically you will receive a daily digest of emails that Proofpoint Essentials has quarantined, allowing you to choose which emails, if any, to release and deliver. You can also access the Proofpoint Essentials interface, a secure web-based user interface that you can use to:
Manage your user information

Update your preferences

Update your features/components within your Proofpoint Essentials Environment

Manage your safe and blocked senders

Search your quarantine

Access the Emergency Inbox
This article covers an overview of the side menu bar. It has three main sections: Tools, Security Settings, and Administration. Each of these groups offer different settings in order to configure Essentials to fit your company needs.
Tools (Log Search, Emergency Inbox)
Tools holds quick access to the two most common tools that will be used by end users and administrators.
Log Search - The ability to quickly view the log of mail flow within the organization and manage the items found within the logs.
Emergency Inbox - Quick access to your virtual mailbox for any items that are currently deferred or unable to be delivered.
Security Settings
This section of the menu has a number of options and methods to adjust the settings for your Proofpoint Essentials product.
Note: Not all items will be listed depending on which package of Proofpoint Essentials has been purchased.
Filter Policies - Here you can create, edit, or delete filters that have been placed for specific mail flow. You have a number of options and methods to create a specific filter fitting certain criteria.
Sender Lists - You can define Safe or Block Sender Lists within this category. Adjusting this list on this menu will apply across the entire organization.
Spam Settings - Adjust and tune what manners of spam protection you wish to have applied to your organization.
Email Tagging - Configure a string of text that will appear for any external message resource.
Disclaimers - Append a dialog or legal statement to each email that is sent from Proofpoint Essentials.
Malicious Content has a few other options that can be configured such as Attachment Defense, URL Defense, and Anti-Spoofing settings.
Administration Settings
Administration Settings has 2 sub-categories. We will review each of the sub-categories below as well. These are the settings for managing users, licensing, domains, and other items that help verify and secure your organization.
For MSP/Partners, you will have a 3rd option for Customers which will allow you to review your customer data. For the intent of this article, we will review the Account Management and User Management options. Customer Management has a number of articles available as well.
Account Management
Profile - This will allow you to update and change company information, Billing, Tech, and Admin contact information for alerts, as well as review billing information and renewal times.
Features - Here you can adjust what features are active within your package of Proofpoint Essentials. Once the feature is activated, you can refresh your browser in order to access the configuration for that feature. They may appear under Spam Settings, Account Management, or Malicious Content once enabled.
Domains - Manage domains that are associated with your organization including adding, changing domain roles (Relay or Management), or removing domains. You will also be able to adjust the Delivery Destination and Fail-overs as well.
Digests - Configure Digest settings including delivery frequency, ability to release, when the last digest was attempted to be delivered, and what will be displayed on the digest.
Notifications - Choose if notifications are sent as well as modify the templates of existing notifications.
Alerts - Adjust settings for alerts when emails enter a Spooling Status.
Branding - Customize portions of communications that are made with your company and organization.
Licensing & Billing - An overview of your current licenses and package selection. You can adjust packages being used as well as set behaviors for licensing if users exceed the current license amount.
Access Control - Manage roles and access controls for those roles within the organization. **Note: Not all roles may be available to your organization.
User Management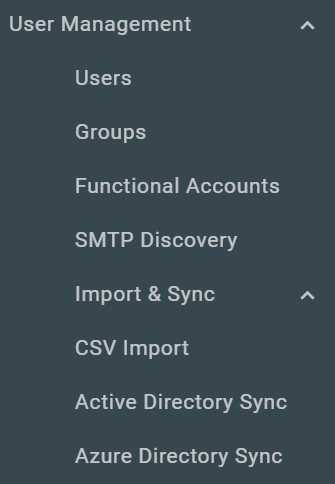 Users - Organize, add, and manage users for your organization.
Groups - Create groups and enroll users to help utilize certain filters or controls that would be for targeted users.
Functional Accounts - List your service accounts, shared mailboxes, printer/scanner accounts, etc.
SMTP Discovery (if enabled in Features) - Configure SMTP Discovery settings to ensure that you capture email accounts accurately. Note: Be sure to add them as proper accounts within 3 weeks of discovery.
Import & Sync:
CSV Import - Utilize a CSV file to import your users. Ensure to follow the following format:
firstname,surname,primaryemail
Active Directory Sync - Use existing Active Directory to manage and import your users into Proofpoint Essentials.
Azure Directory Sync - Utilize Azure Directory in order to manage your Proofpoint Essentials Users.